Athletics Bands

IN 2024, THE MARCHING BUCS ARE GOING TO MACY'S!
If you are interested in joining the Marching Bucs for this historic event, please fill out the 2024 interest form HERE.
#BUCSONPARADE
If you want to help the Marching Bucs on their journey to Macy's, please click here to make your donation.
Want to be a Marching Buc??
Contact Dr. Joe Moore



ETSU Marching Band - FAQ
How do I audition?

Please complete the Marching Bucs Interest Form prior to audition.

Brass/Woodwinds: Previous high school marching experience or the equivalent is required. You will be sent a prepared piece which you will submit by video. More information will be sent when you complete the online audition form.

Percussion: Auditions are required for a spot in the Drumline or the Front Ensemble. For more information, contact our Marching Percussion Director, Mr. Logan Ball, balllj1@etsu.edu

Colorguard: Auditions are required and will be held on Saturday, April 20, 2024 from 9:00 am- 5:30 p.m. in the Basler Center for Physical Activity (CPA), located at 1244 Jack Vest Dr, Johnson City. For more information moorejd@etsu.edu

Majorettes: Majorettes: Auditions are required and will be held in the spring. Date and location TBD.
For more information: etsumajorettes@gmail.com

How do I enroll?

Fill out your information at the link listed above if you are planning to participate!

When registering for classes, Marching Band is: MUSC 1201
*Please note: Incoming Freshman should NOT register for the Freshman Preview since it conflicts with Band Camp

If I'm attending Northeast State Community College can I participate?
Yes! You can enroll for the marching band class at ETSU and be a member of the Marching Bucs. For more information and assistance with registering, contact Paige Cowden, NES Transfer Advisor, cowdenp@etsu.edu

Are Scholarships available?

Performance Awards of various financial levels are available to ETSU students enrolled in the class and carrying a minimum of six hours for the fall semester. These scholarships will be awarded based on the performance level of the individual auditioning as well as the overall needs of the band. You will receive audition requirements once you have completed the online interest form.



How much time will be involved?

Band Camp is scheduled a week and half before classes begin. You will receive more information once you complete the online interest form.

Class meets MWF 3:10 p.m. – 5:10 p.m.

Saturdays of Home Football Games are required.

In addition to home football games (usually on Saturdays), a complete performance schedule will be sent when you complete the online interest form. In addition to football games, high school exhibitions, the Bands of America Johnson City Regional Championship, and the Johnson City Christmas Parade are required. For fall 2024, the Marching Bucs will also be traveling to New York City November 25-29 to perform in the Macy's Thanksgiving Day Parade.

Please note: ALL performances are required. When you receive the schedule, you should immediately check to see if you have conflicts. If you have conflicts, you should not plan to participate in marching band.

What expenses are involved?

Approved marching shoes (solid black, lace-up)

Approved gloves for Woodwinds and Brass (solid white, long wrist, no logos)


Flip Folder/Music Lyre for Woodwinds and Brass


Hydration Pack (such as a CamelPak) for Woodwinds, Brass, Drumline

Macy's trip payment: $300 due August 1, 2024

Housing Options:

There are many on-campus housing options available with varying amenities, price points, and locations. While on-campus living is not required, except if required by a scholarship or program, it is strongly encouraged for first-year students as the best strategy for transitioning to the University. The convenience of being on campus with other Marching Bucs is a great way to connect and become a part of the ETSU Family. There is an Arts Living-Learning Community that is designed for students studying/ interested in the fine and performing arts to live together, connect across disciplines, and practice creativity and collaboration. For more information, email housing@etsu.edu
or visit www.etsu.edu/housing or call 423-439-4446

In 2023, on campus housing was over capacity and off campus housing was very limited. You need to apply as early as possible for campus housing.

Northeast State Students:

Northeast State students interested in participating in the ETSU Marching Bucs should apply to ETSU as a dual admissions student. In addition to participation in the Marching Bucs, students are given the opportunity to receive dual advisement at both institutions, ensuring transferability of coursework, as well as access to all ETSU amenities, including, but not limited to, the Charles C. Sherrod library, ETSU football and basketball games, student concerts, etc. Additionally, students who apply within their first semester at Northeast State receive a waived application fee to ETSU. For more information, or for assistance with the application and/or registration process, please contact:

Paige Cowden, NES Transfer Advisor, cowdenp@etsu.edu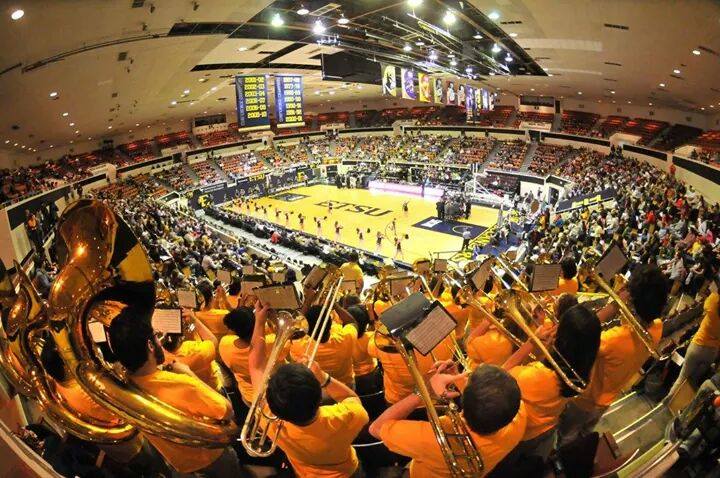 ETSU Buccaneer Brass Basketball Band
Open to all university students by consultation with the instructor.
Directed by Mr. Reilly Fox