Department of Music
College of Arts & Sciences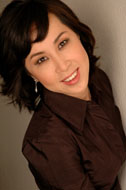 Sun-Joo Oh
Professor
---
Applied Voice & Vocal Pedagogy
Soprano, Sun-Joo Oh has earned a loyal following from audiences throughout the country with her charm and vocal agility. Her lyric-coloratura roles have received dazzling reviews from critics everywhere. In Columbia, South Carolina, the Free Times praised Sun-Joo Oh's Messiah performance: "Sun-Joo Oh, really let the light shine through with a bright, clean and stylish technique" and for her operatic role as Musetta in La Bohme: "Sun-Joo Oh's Musetta was sassy, sexy and vocally stunning." Sun-Joo's other operatic appearances include The Queen of the Night (Magic Flute), Norina (Don Pasquale), Musetta (La Bohme), Miss Silverpeal and Madame Goldentrill (The Impresario), and Ernestine (Monsieur Choufleuri).
On the orchestral stage, Sun-Joo expresses her strong spiritual inspiration in works such as Brahms's Requiem, Haydn's Creation, Beethoven's Mass in C Major, Mozart's Requiem, Vivaldi's Gloria, and Handel's Messiah, Theofanidis' Here and Now. She is in demand as a soloist with symphonies both here and abroad.
A popular recitalist, Sun-Joo's programs feature a wide spectrum of literature which appeals to many nationalities, particularly aficionados of Baroque and Contemporary music. She has given recitals throughout the eastern United States, Europe, Brazil, and her native South Korea.
Sun-Joo Oh is currently Professor of Voice at East Tennessee State University in Johnson City, Tennessee. She received both Bachelor of Music and Master of Music in vocal performance from Sungshin's Women's University in Seoul, Korea. She studied in Rome, Italy, and received a Diploma from AIDA Accademia. Upon completing her master's degree, Sun-Joo toured Italy and Germany, eventually landing in Boston, where she earned a Graduate Performance Certificate from the Boston Conservatory. Sun-Joo received her Doctorate of Musical Arts from the University of South Carolina.