Political Science, International Affairs & Public Administration
College of Arts and Sciences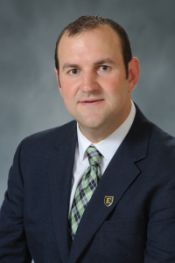 Colin R. Glennon, PhD.
Professor and Chair, Department of Political Science and Coordinator Legal Studies Minor
---
Biography
Dr. Glennon joined the faculty at ETSU after completing his Ph D at the University of Tennessee-Knoxville and teaching at Fort Lewis College in Durango, Colorado. He teaches courses in public law and American politics and serves as the Pre-Law advisor for the University. His research focuses on judicial behavior and judicial legitimacy. He he has co-authored texts in the fields of constitutional law, American government, and American political thought.
Education
Ph D, Political Science, University of
Tennessee-Knoxville
BA, Political Science, University of
Missouri-Columbia
BA, History, University of Missouri-Columbia
Research Interests
Dr. Glennon's research interests focus broadly on judicial behavior, the relationship between courts and other branches of government, and citizen perceptions of judicial legitimacy. He has authored manuscripts which appeared in Law and Social Inquiry, Journal of Law and Courts, Politics and Policy, and Judicature among others.
Teaching Interests
Dr. Glennon teaches courses in public law and American politics. Specifically, he regularly offers the Constitutional Law series of courses, the Supreme Court, Law and Judicial Process, The First Amendment in Film, Introduction to American National Government, and American Political Thought.
Recent Publications
Colin Glennon and Anthony Nownes. American Political Thought: Theory and Practice. Forthcoming, 2021. First Edition. Cognella Academic Publishing.
Strother, Logan and Colin Glennon. "An Experimental Investigation of the Effect of Supreme Court Justices' Public Rhetoric on Perceptions of Judicial Legitimacy." 2020. Law and Social Inquiry.
Glennon, Colin, and Logan Strother. "The Maintenance of Institutional Legitimacy in Supreme Court Justices' Public Rhetoric." 2019. Journal of Law and Courts. Vol. 7. No. 2, pp. 241-26