Frequently Asked Questions
1. Am I guaranteed Counseling Services?
The Counseling Center operates on a Stepped Care Model, which means providing you with different choices to address your needs. Our counselors will meet with you and help you determine what choice suits your needs and provide campus or community referrals as needed.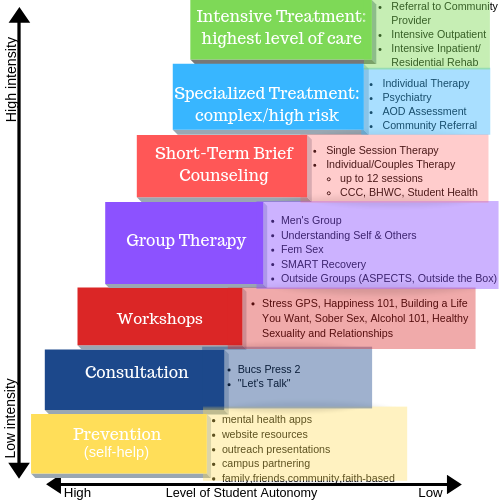 2. Am I eligible for services?
All currently enrolled ETSU students are eligible for services.
To be eligible for services during the summer, you must be registered for the upcoming fall semester.
3. Is there a fee?
Counseling sessions are free of charge. Psychiatric sessions are provided for a minimal fee.
4. How do I make an appointment?
All new clients interested in learning more about service options and referral resources can schedule a 30 minute Needs Assessment. This is not a therapy session, but is a great first step to getting connected to services that would best fit your needs!
Returning clients may call or email to schedule an appointment (please note that if it has been a semester since you have been seen, you will have to schedule an appointment for a Needs Assessment).
5. Will I be seen by a student?
Along with our full-time professional staff, we are a training facility for advanced-level master's counseling and social work students; therefore, some clients will be seen by a master's-level intern.
6. Do you have male and female counselors?
We strive to provide diversity in our staff, including counselors of varying genders, sexual/affectional orientations, religious affiliations, ethnicity, ages, and cultural backgrounds.
7. Do you prescribe medication?
Our psychiatrists partner with our counselors to provide medication when needed. However, we DO NOT provide stimulates (e.g. Adderall), Benzodiazepines (e.g. Xanax), or opiates (e.g. Demerol).
8. May I schedule a couples session even if my partner is not a student?
Yes, as long as one of you is an ETSU student, you can both come in for couples therapy.
9. Is regular professional counseling the only way to get better?
Absolutely not. Self-help is a great way to start the change process. In addition, sometimes just having someone listen to you helps.
10. Can I get a letter of support to aid in the process of getting an Emotional Support Animal(ESA)?
No, unfortunately our office cannot provide this type of letter.
11. How do I request a verification of service letter or a pettition of support letter?