Department of Music
College of Arts & Sciences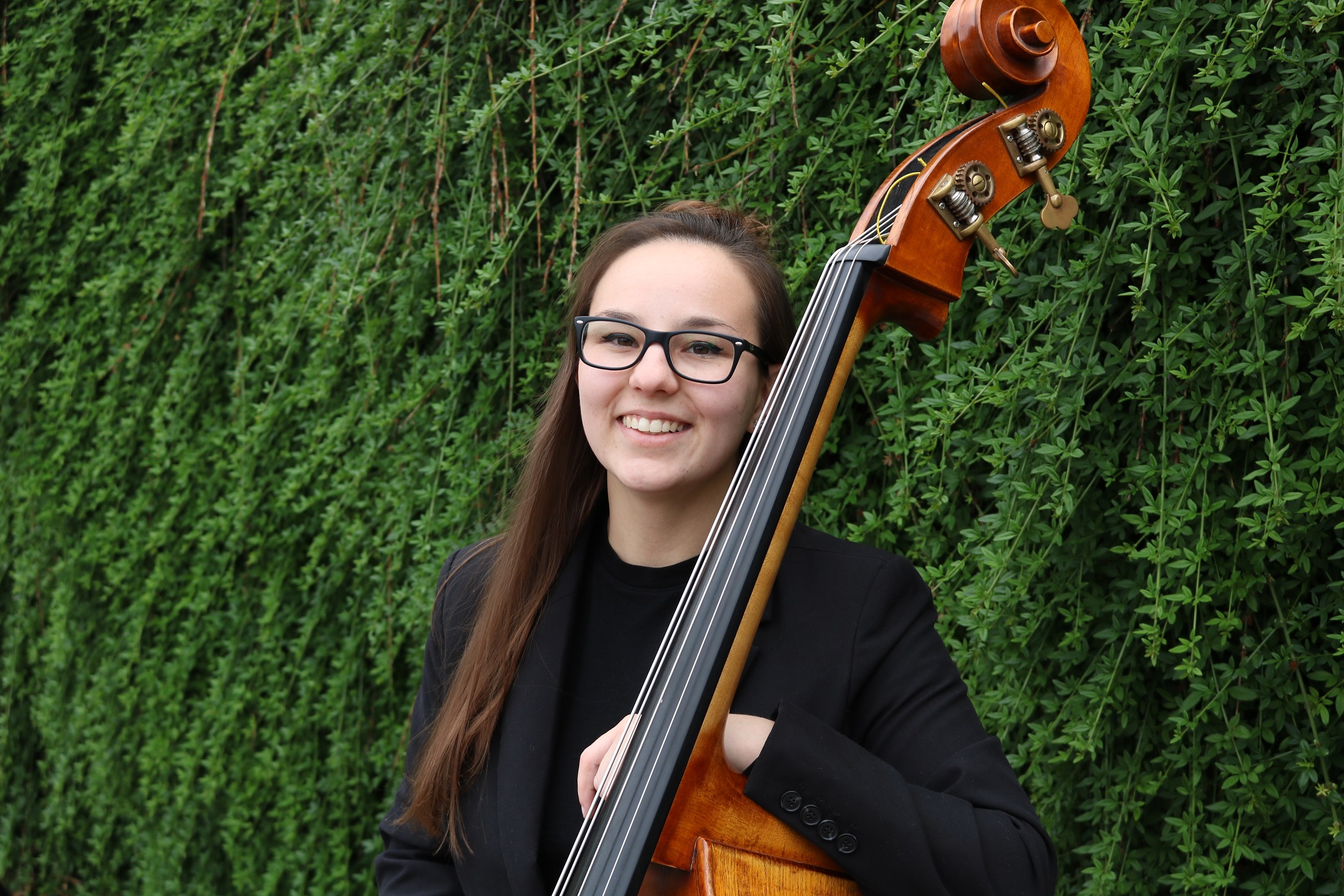 Katelyn Adams
Adjunct Faculty
---
Double bassist Katelyn Adams is an active performer and teacher, and is excited to continue her budding career at ETSU. Originally from Buffalo, New York, Adams traveled to central New York to receive her Bachelor of Music degree in Music Education from Ithaca College. She moved to Knoxville, Tennessee in the midst of the Covid-19 pandemic, where she earned a Master of Music in Music Education from the University of Tennessee. As a graduate assistant in the Strings Initiative program, Adams oversaw several after-school, beginner orchestras, where she taught young students fundamental techniques on the violin, viola, and cello. In addition to her degree program, she also received the Music Theory Pedagogy Certificate, further developing her knowledge of music theory and aural skills acquisition in a diverse array of classroom settings. Adams currently offers lessons on the violin, viola, cello, double bass, electric bass, and fiddle to students of all ages in the Knoxville and Maryville communities. She also enjoys assisting and leading sectionals with the Knoxville Symphony Youth Orchestra during their Monday night rehearsals.
As a performer, Katelyn Adams immerses herself in many different styles of music. She values the ability to create basslines within any musical setting and plays with countless groups to fulfill her desire to learn. In the classical realm, she has performed alongside members of the Knoxville Symphony, Oak Ridge Symphony, and served as principal and associate principal in the Symphony Orchestra at UT. Katie can be found in the recording booth, or gigging with local Knoxville acts such as Alex and the Animals, Stranger May, GenX 4 Fun, and Delicious. She had her debut performance on the Blue Plate Special hosted by WDVX with the UT Appalachian String Band, and plans to continue playing fiddle, folk, and Americana music with graduating colleagues from that same ensemble. Adams has also performed in several pit orchestras, wind ensembles, worship bands, and even recorded cello on an upcoming gospel album.
With regards to her solo career, Adams has studied with Brett Shurtliffe in Buffalo, New York, Nicholas Walker and William Cravy at Ithaca College, and most recently Jon Paul Hamar at the University of Tennessee, Knoxville. She has performed in masterclasses with Edgar Meyer, James VanDemark, and Steve Benne. In addition to preparing for her classical performances, she spends time creating solo arrangements for voice and double bass, which she performs at local open mic nights. Her arrangements include artists like Fleetwood Mac, Glass Animals, Esperanza Spalding, and Metallica—and are always crowd favorites.